Founder President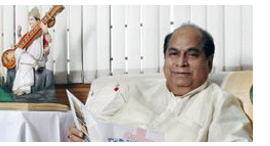 Padmashree Dr. D. Y. Patil (Ex.Governor, State of Bihar)
In the realm of education and healthcare in the state of Maharashtra, one name stands out like a shining beacon, that of Padmashree Dr. D.Y. Patil. His vision, dedication and passion have been indelibly influenced, by his wisdom and generosity and have left several benchmarks, be it in the schools for imparting basic education or institutes for higher learning. He has materialized his dreams under the umbrella of prestigious education institutes in Kolhapur, Navi Mumbai and Pune.
He is pioneer in ushering an era of privatization of technical education in Maharashtra. He is a philanthropist, educationist and social worker and under his able guidance the Pratishthan has more than hundred academic institutes of international repute, from kindergarten to post graduation levels in various disciplines of education.
His regard and respect for traditional values and openness to modern ideas, blended perfectly with his admirable personality. Humble and unassuming Dr. D.Y. Patil is better known for his work, rather than the awards and recognition he has received over the years. For his pioneering contribution in the field of education, he was honored with the title 'Padmashree' by the President of India. He is also awarded two Doctorates in philosophy, the first by The World University Round Table (USA) in 1985 and later by Britain (UK) in 1996.