Institute at a Glance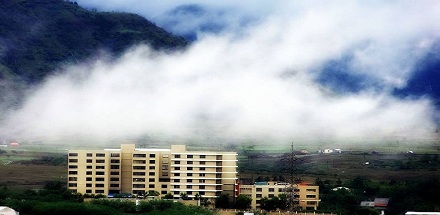 The Academy
The Academy Established By Padmashree Dr.D.Y.Patil in 1991 with aim ofproviding education in all Fields thus, spreading education to deserving students and thereby helping them to realize their dreams of career in professional courses. It runs several courses in Navi Mumbai and Pune there are number of courses including Engineering Management, Pharmacy etc.there are total 7 institutes in ambi campus. The Academy is located on about 44 acres of land, adjoining the town of Talegaon Dabhade, in Pune District in the state of maharashtra,India. It is about 40 kms from pune and about 128 kms from Mumbai. One has to travel by road along the Mumbai-Pune Highway and Turn of the highway into the Talegaon MIDC.
Location
Talegaon is home to many Multinational Companies,agro based units. Talegaon is well known for its beautiful climate. Its a beautiful town with lush greenary and sahyadri Ranges around it. Indrayani and Pavana are major River following by talegaon. It is extremely well connected by two major cities in India, Pune and Mumbai.Talegaon has consistently been rated high for local infrastructure. It's local Municipal Corporation follows best practice for governance. This has resulted in better roads, eater and safety for people of talegaon. The name Talegaon literal translation in English would be 'Lake Town' and indeed there are many lakes in and around the town. Its salubrious climate combined with good local infrastructure has made it preferred destination for nature lovers.
All About our Campus
Institute
Inspired by the philanthropic urge and motivate by social concern Dr.D.Y.Patil Educational Academy is Established by Dr.D.Y.Patil. The Trustees are financially strong entrepreneurs, educationalist, and philanthropist commited to establish and develop the institute into a world class education centre Dr.D.Y.Patil Educational Academy is situated in Talegaon Dabhade off the Mumbai-Pune Highway NH-4.The location of the college will provide the students an easy access to the industries, business houses and multinational companies in pune,Talegaon Dabhade.
Objective
Our Objective is to integrate technical education and the art of living with a balanced attention to competence, productivity and pragmatism and to develop in our students human values along with problem-solving skills.
Campus
Set in a sprawling campus of more than 44 acres having Wi-Fi connectivity, it boasts of a masterly architecture and state of the art facilities. It is Planned as a self sufficient campus. Workshop fully equiped with smithy,fitting, foundry ,welding ,carpentry,machine and sheet metal shop Computer center having 60 networked HP Branded dual core system with TFT monitors Well equipped modern laboratories for mechanical Engineering, Electronics & telecommunications, Computer Engineering and Information Technology practicals. A well stocked library making available latest editions of books ,CD's, DVD's open for 24 hours A DAY. Well lit and airy lectures rooms drawing hall,staff rooms, conference hall and a seminar hall equiped with high quality audion and video system. Sports and games facilities are under development. Hotel canteen convenience store and medical dispensary is under development near by PCO, bank and stationary, shops. Transport facilities for staff and students.
Green View
With an aim to make Dr.D.Y.Patil Educational Academy a prestigious institute for technical education,the promoters have made untiring efforts to develop an institute in a green environment not only free all kinds of pollution but also through the use of energy efficient fans, lights and other equipments.