The D Y Patil Group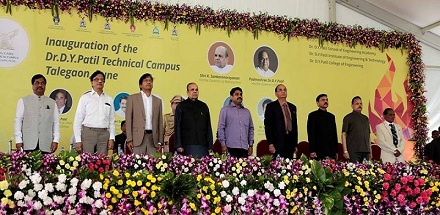 The group strongly believes that leadership positions drive growth. Leadership positions serve customers better, attract partners and intellectual capital, and lead to large savings that benefits all stakeholders.
Philantropy
At The D.Y.Patil Group, this is the spirit that has empowered us greatly in our process of ENSURING A BETTER TOMORROW. To the group, tomorrow does not belong to mere technology or sophisticated software, but to our core strength- our people. The group has always placed people welfare before commercial profits in every activity it carries out.
Excellence through Education
Appreciated and admired as a frontrunner in the education scenario, The D.Y.Patil Group has become a name synonymous with quality education.
The group strongly believes that world-class education is the stepping-stone to progress. With a long-standing commitment towards quality teaching and learning, the group has nurtured values that go into the making of successful careers. Reiterating excellence in every venture explored, the group stands tall with its undeterred commitment to deliver better. Equipped with state-of-the-art infrastructure, the group has a chain of over 100 educational institutions that encourage individuals to think, question, explore and apply their well-honed minds to scale newer heights of success. The group believes in imparting education that'll build world citizens of tomorrow. Therefore it hasn't ventured into common streams like science, commerce and arts. In fact, it has gone much beyond that, by venturing into areas like technology, architecture, legal studies, sports academy, management school, hospitality &catering school, etc.
Moreover, the group enjoys academic alliances with overseas universities that help bridge the educational and cultural divide between various countries and us. Some of the alliances include those with University at Buffalo, Tufts University, University of Seychelles, University of Central Lancashire and many more.
Deemed University
The group is proud to have not only met but also exceeded the norms set by the Government of India. And this has accorded it the status of Deemed University. This reflects the level of commitment and dedication the group has towards its objective. Currently there are three such deemed universities, at Navi Mumbai, Pune and Kolhapur, under the D.Y.Patil Group. The biggest advantage of this status is that the group can set up its campus anywhere across India and overseas.
Sports Complex & Academy
With an aim to deliver sports programmes and promote all kinds of sports, the group has build a World Class Sports Complex at an approximate cost of USD 20 million. The Academy will also expose Indian students to innovative programmes such as sports medicine, sports psychology, sports Physiology, Sports exercise & nutrition, et al.
Excellence through Foresight
The group has also made its foray in sectors beyond education. Healthcare, Agribusiness, Media and Consultancy are just some of the sectors where the group has spread its wings.